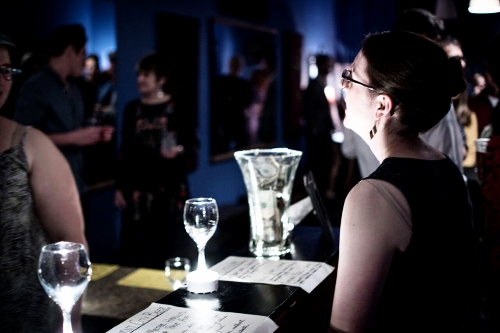 Drinking with the Experts
WHEN
Saturday, October 5th
Doors at 7:00pm
WHERE
TUTA (4670 N. Manor Ave) just off the Francisco Brown Line stop
WHAT
Back by popular demand, TUTA brings you a new evening of captivating discussion with some of Chicago's most interesting individuals. Be the first to learn TUTA's exciting artistic news, and chat with scientists, cinematographers, entrepreneurs, artists and more over custom cocktails and scrumptious treats.
PRICE
$40.00 in advance, $50.00 at the door
RAFFLE
Can't make it to the event? Consider entering our raffle for the TUTA Company Member Wine Collection: over a dozen bottles of wine curated by the members of TUTA. Tickets are $5.00 for one and $20.00 for five. You do not have to be present at the event to win.
PASt Experts
Christine Frei - Welder
Tyler Lansdown - Community Manager for NetherRealm (Mortal Kombat)
Will Quam - Brick Expert
Julian Antos - Technical Director of the Music Box Theatre
Eric Spitznagel - Journalist & Humorist
Tom Crawford - Astrophysicist
Natasha Bogojevich - Composer
Elisabet Head - Volcanologist
Cathryn Crawford - Criminal Defense Attorney
Noel Taylor - Founder of the Golosa Russian Choir
Garrett Karp - Advocate for public access to off-limits architecture
Shoni Currier - Director of Performing Arts for the Chicago Department of Cultural Affairs and Special Events.
Cindy Savage - Co-Founder of Crafty Broads, Wedding Planning and Custom Garments.
Jenn Gibbons - Athlete and activist. "Recovery On Water".
Daniel Billups -Documentary filmmaker.
Paul Karner - Musician and producer based in Chicago and Haiti.
Boleslaw Osinski - Neuroscientist at University of Chicago.
Lance Adams - Filmmaker. Bridgeport Film Club.
Neil Blackadder - Translator of contemporary French and German drama.
Pat Loboyko - Graphic novelist.
Mina Bloom A reporter/producer for DNAinfo Chicago.
Lori McClain - Performer in Sirens, the country's longest running all female improv group.
Sarah Beth Tanner - Director of Operations - First Slice Pie Cafe.
Evan Chung - Producer of WBEZ's Sound Opinions.
Christopher Kidder-Mostrom - Theatre Critic for Newcity.
Erin McEvoy - Co-Founder of Sirens Improv.
Branimira Ivanova - Creator of House of Idolatry Clothing.
Margaret Hartmann - Project Manager of Corner Farm Chicago.
Bergen Anderson - Founder of Lilla Barn, an urban childre's clothing line.
Andrew Schultze - Singer and Voice Educator.
Vera Kulezic - Co-Owner of Acubalance Wellness Center, LLC.